Search over 450 titles and 1.2 million pages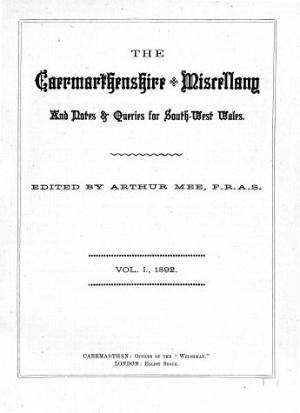 The Caermarthenshire miscellany
An antiquarian periodical that published antiquarian articles and notes relating to Carmarthenshire alongside articles on local history. The periodical was edited by the journalist and amateur astronomer, Arthur Mee (1860-1926), who went on to edit Who's Who in Wales. Originally a monthly periodical from May 1892 it was published irregularly. Associated titles: Carmarthenshire Notes (1889); Carmarthenshire notes and miscellany for south west Wales (1890).
Publication Frequency: Irregular
Publication Language: English
Publication Location: Caermarthen
Publisher Details: Offices of the "Welshman"
First Available Issue: 1892
Last Available Issue: 1892