Search over 450 titles and 1.2 million pages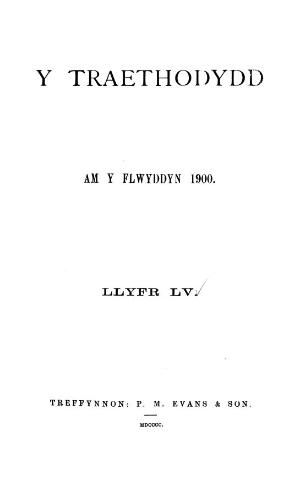 Y Traethodydd (1900-2007)
Y Traethodydd ['the essayist'] is a Welsh-language popular quarterly literary journal covering a wide range of topics including religion, theology, philosophy, and science. For digitisation, the publication has been split into two sequences: Vol. 1 (1845) – Vol. 54 (1899) and Vol. 55 (1900)- present.
Publication Language: Welsh
Publisher Details: Published by: P.M. Evans & Son, Holywell (1900-1903); Swyddfa'r Herald, Caernarfon (1904-1912); Llyfrfa'r Cyfundeb, Caernarfon (1912-1928); Llyfrfa'r Methodistiaid Calfinaidd, Caernarfon (1929-1993); Gwasg Pantycelyn, Caernarfon (1994-2007).
First Available Issue: 1900
Last Available Issue: 2007